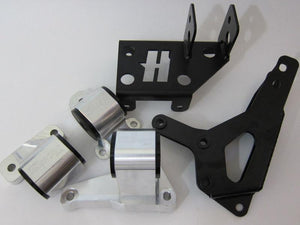 1992-1995 Civic F & H Replacement Mounts
EGH3-62A
Hasport Billet Motor Mounts are designed using sophisticated CAD/CAM engineering software, these mounts provide the utmost in strength and proper fit.

Using aircraft quality aluminum Hasport mounts come provide the weight savings and durability you need - and a lifetime warranty to back it up.

Hasport mounts are offered with your choice of Polyurethane Insert:
* *62A - Street*
The softest and most streetable of the options.
* *70A - Race*
Perfect combination of performance and durability.  Good for aggressive street and light track.
* *88A - Extreme Race*
Where nothing but the most aggressive will do.  Built for track not for street, will transfer engine vibrations.