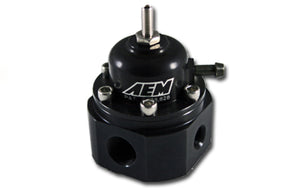 Universal Adjustable Fuel Pressure Regulator
AEM_25-302BK
AEM's Universal Adjustable Fuel Pressure Regulator is capable of supporting enough fuel flow for engines up to 1000 horsepower. Patented interchangeable discharge ports enable the regulator's output to match the output of any fuel pump. Our universal FPR is tapped to accept a -6 AN, or 9/16"x18 fittings and includes a 1/8 NPT port for a fuel pressure gauge or pressure sensor pick up.
---
THIS PRODUCT MAY BE USED SOLELY ON VEHICLES USED IN SANCTIONED COMPETITION WHICH MAY NEVER BE USED UPON A PUBLIC ROAD OR HIGHWAY, UNLESS PERMITTED BY SPECIFIC REGULATORY EXEMPTION (VISIT THE "EMISSIONS" PAGE AT

HTTP://WWW.SEMASAN.COM/EMISSIONS

FOR STATE BY STATE DETAILS.
IT IS THE RESPONSIBILITY OF THE INSTALLER AND/OR USER OF THIS PRODUCT TO ENSURE THAT IT IS USED IN COMPLIANCE WITH ALL APPLICABLE LAWS AND REGULATIONS. IF THIS PRODUCT WAS PURCHASED IN ERROR, DO NOT INSTALL AND/OR USE IT. THE PURCHASER MUST ARRANGE TO RETURN THE PRODUCT(S) FOR A FULL REFUND.
THIS POLICY ONLY APPLIES TO INSTALLERS AND/OR USERS WHO ARE LOCATED IN THE UNITED STATES, HOWEVER CUSTOMERS WHO RESIDE IN OTHER COUNTRIES SHOULD ACT IN ACCORDANCE WITH THEIR LOCAL LAWS AND REGULATIONS.