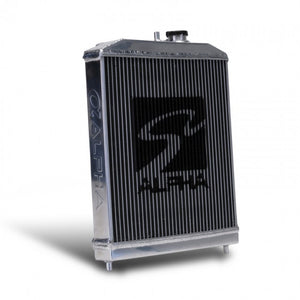 Alpha Radiator - '92-'00 Civic
SK2_349-05-2000
Skunk2's all-aluminum, Alpha Series Radiator for the '92-'00 Civic is designed to dramatically increase both cooling efficiency and engine performance.
Alpha Series Radiators are manufactured from lightweight and durable aluminum, feature 100-percent brazed cores, and include polished end tanks with Skunk2's signature Alpha logo embossed along each side. Each Alpha Series Radiator features a dual-core design, high-efficiency fins for maximum cooling capabilities, and includes a genuine Skunk2 Radiator Cap for maximum performance and a premium appearance. Each Alpha Series Radiator also includes provisions for the OEM cooling fan.
Skunk2's commitment to producing high-quality components means that each Alpha Series Radiator meets or exceeds original equipment manufacturer standards, that each radiator may be installed without modification to the vehicle, and is compatible with OEM cooling fans and shrouds. Skunk2's Alpha Series Radiators are the perfect addition to any high-performance vehicle and are designed for the street or track.