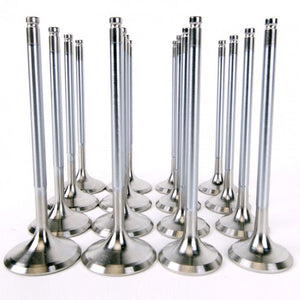 Alpha Valves - STD Comp D Series 30mm/26mm
Skunk2 Alpha Series Valves for the Honda D16Z6, D16Y5, D16Y7, and D16Y8 are manufactured from HNV-3 martensitic steel (IN) and EV8 austenitic steel (EX) one-piece forgings. Each valve is heat-treated using a proprietary process for extraordinary strength and durability and then hard chrome plated to further increase strength, significantly reduce friction, and increase corrosion resistance.
Other valves may appear similar, but only Alpha Series Valves feature specially designed valve head profiles to optimize airflow. Skunk2 designs, develops, and tests its entire valvetrain lineup in-house to ensure superior quality and maximum performance gains. Skunk2 valvetrain components provide exceptional performance, reliability, and quality and are standard-issue on each Skunk2 vehicle that we build and support.
FEATURES:
Overall Valve Length (Intake/Exhaust): 118.5mm/ 116mm
Head Diameter (Intake/Exhaust): 30.00mm/ 26.00mm
Stem Thickness (Intake/Exhaust): 5.48mm/ 5.45mm
One-Piece Design
Stainless-Steel Alloy Construction
Std. Intake/ Std. Exhaust - Dished Head - Std. Comp
3-10g Lighter Than Stock
Proprietary Heat Treatment
Hard Chrome Plated
Optimum Sealing, Airflow, and Stability