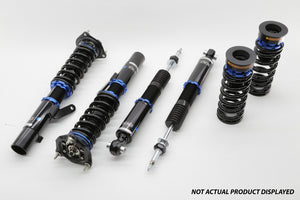 HONDA CIVIC 14-15 *SI ONLY* INNOVATIVE SERIES COILOVER
HD14-IS
The SCALE Honda Civic SI 14-15 Coilover suspension upgrade is designed to achieve a perfect balance of street comfort and increased performance. This suspension system allow you to easily adjust your ride height while increasing handling performance.
 Our patented scaled system design allow easier and precise adjustment and ensure equal height on each corner.
 The Part # : HD14-IS coil over shocks are handcrafted to your specs at SCALE facilities.
 This model front macpherson configuration come with adjustable camber plate front top mount to allow you to set your desired camber spec to avoid excessive tire wear. We recommend the use of the gravitational bearing option to reduce the effort of the camber plate.
The rear multilink configuration only have oem alignment adjustment. If you need more adjustment, you can check if adjustable control arms are offered by specialized company.
 Our mono-tube shock absorber are using high-quality cnc piston valve, synthetic oil and high-pressure nitrogen gas contained within one tube
 We can always customize spring rate and shock length to fit your exact needs. Feel free to email our sales for any specific needs so they can help you figure the best configuration for you.
The low version is designed to give an additional inch of drop over the regular version range. It is also useful when using aggressive wheel specs to prevent rubbing issue. This version use shorter shocks and slightly stiffer springs to reduce suspension travel , this will reduce the comfort level compared to the regular version. Note that it is also one inch lower than the regular version when at maximal extension (Free option)