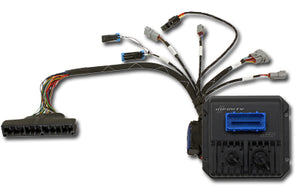 Infinity PNP 99-01 Honda/Acura OBD2B Engines
AEM_30-3501
The Infinity ECU for manual transmission equipped 1999-01 B/D/H Series Honda/Acura OBDIIb racing engines (Infinity 506 PN 30-7106 and Infinity 508 PN 30-7108) includes an engine-specific start-up calibration and connects to the engine via a Plug & Play harness that is sold separately (PN 30-3509). Begin by determining which Infinity ECU will best support the ancillary components in your manual transmission B/D/H Series OBDII engine using the Infinity Specifications Chart in the "Specs" tab.
Complete Stand Alone Engine Control
The Infinity ECU combines with the Plug & Play harness to replace the factory ECU. It controls all of the engine functions and the Plug & Play wiring harness adapter eliminates the need for cutting and splicing wires.
Plug & Play Harness with Expansion Port
AEM's sealed, weatherproof Plug & Play harness (sold separately) includes a Lambda connector, an AEMnet connector for communication with other AEMnet enabled devices and an auxiliary connector with a High Performance DTM-Style 12P connector for adding common aftermarket sensors. Visit the "Features" tab for more information about the Honda B/D/H OBDII Plug & Play harness expansion port.