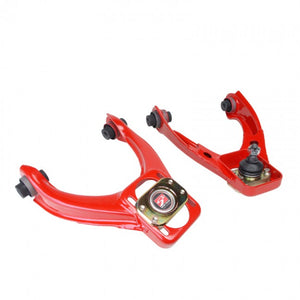 Pro Camber Kit - Front - '96-'00 Civic
SK2_ 516-05-5670
Skunk2 designed its Pro Series Front Camber Kit for the '96-'00 Civic with specially engineered A-arms and ball joints that allow for maximum positive camber adjustment in a low-profile design.
Enthusiasts who are serious about performance can now correct almost all abnormal tire wear due to negative camber and increase high-speed stability. Each Pro Series Camber Kit includes high-quality rubber bushings and Skunk2's all-new, one-piece, forged Pro Series Ball Joints, which feature low-profile top plates for additional clearance between themselves and the shock towers, higher clamping loads for no-slip performance, and a unique design that allows for maximum adjustability.
Skunk2 's cadmium-plated, Pro Series Ball Joints can also be adjusted from the bottom up, which allows for quicker and easier adjustments—especially on lowered vehicles with shortened shock bodies. In addition to improved ride characteristics and reduced tire wear on lowered vehicles, Skunk2's proprietary design helps reduce structural fatigue and failure commonly associated with other camber adjustment kits. Skunk2's Camber Kits are the number one choice of many professional race teams, including Honda's own factory road race cars, since 1997.