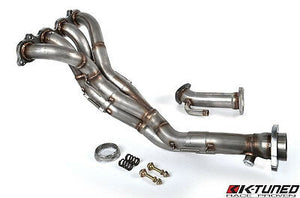 RSX K20 Race Header 409 Series Stainless Steel
KRH-RSX-409
The goal with any performance header design, is to get exhaust gases to flow out of the engine faster and more efficiently, which in turn will produce more power and performance. The K-Tuned RSX Header was designed with this exact theory in mind and utilizes a proven 4-2-1 Tri-Y design with extremely smooth slip fit merge transitions to increase the exhaust flow and power output of the Honda K engine. Like most Tri-Y designs, power gains are seen almost everywhere in the power band, not just the top end. Fitment is equally if not more important to us than function and although the subrame and swaybar on the RSX presented some design challanges, the final fitment was definitely worth some extra time. The secondary tubing passes perfectly through this tight area with extra clearance for engine movement.

The header features stepped piping beginning with 44mm primaries that progressively move into 48mm, then 50mm secondaries and finally a 64mm or 2.5î exit. Like all our stainless headers, it is assembled with mandrel bent, 304 stainless steel tubing and is fully tig welded. We also use a slightly thicker gauge tubing that allows for better weld penetration and additional strength. The CNC cut 3/8" thick flanges are also double welded and then ported for optimum flow at entry and exit. This header directly replaces the OEM 2 piece design and eliminates the catalytic converter so we included a short 2.5" test-pipe with defouler for the secondary O2 sensor. Be sure to check out our 3" Oval Tube Exhaust System for the RSX if you haven't seen it already.
Applications: 
02-06 RSX DC5 K24 Swapped with Type S exhaust. 
01-05 Civic EP3 K24 Swapped with K-Tuned Oval-Tube Exhaust or Type R style exhaust.
Features:
- Fits RSX with K24 engine ONLY 
- 4-2-1 Tri-Y Design 
- 304 Stainless Steel 
- CNC cut 3/8" thick SS Flanges 
- 2.5" Outlet