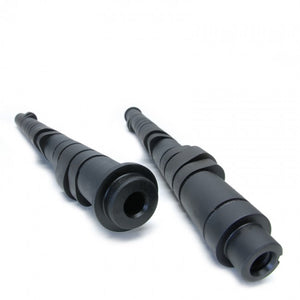 Tuner Stage 3 Camshaft - B VTEC
SK2_ 305-05-0150
Gain an extra 20-25 hp and retain your factory idle and low-speed emissions with Skunk2's Tuner Series Stage 3 Camshafts, our introductory line of high-performance camshafts for Honda's B16/ B17/ B18 VTEC engines. Tuner Series Stage 3 Camshafts are designed to increase power at higher rpm as well as optimize horsepower and torque on engines featuring free-flowing intake and exhaust tracts, increased compression, and upgraded valvetrain. As a result, VTEC crossover is dramatic, allowing for that classic primary-to-secondary surge. What's more, Tuner Series Stage 3 Camshafts have helped power numerous race teams to victory over the years, reaching legendary status the world over. No other line of high-performance camshafts even comes close to Skunk2's Tuner Series.
First introduced in 1999, Tuner Series Camshafts are manufactured from the same proprietary, high-quality cores as Skunk2's more aggressive Pro Series Camshafts, are CNC ground, and feature unique profiles and lobe shapes that emphasize an exceptional idle and low emissions.
Skunk2 camshafts deliver unparalleled power as a result of continual, extensive development and testing. By utilizing advanced manufacturing techniques and the latest computerized simulation and modeling equipment, Skunk2 camshafts are able to deliver maximum power across the entire powerband. Skunk2 designs and tests all of its camshafts in-house to ensure the highest quality and performance. Each camshaft is manufactured of newly revised chill-cast, billet camshaft blanks that have increased torsional strength, improved durability characteristics, and reduced frictional effects. All Skunk2 camshafts are ground to exact specifications using state-of-the-art CNC cam grinding machines equipped with cubic-boron grinding wheels and feature hardened, wear-resistant lobes and surfaces.
Skunk2 camshafts designs are the direct result of our years of drag racing and road racing efforts. In addition to each Skunk2 project car and race vehicle, the world's top road racing and drag racing teams have relied on Skunk2 camshafts for years.