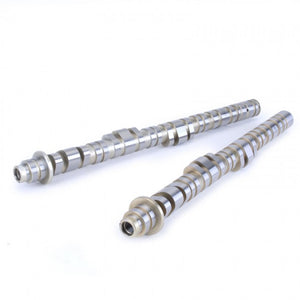 Ultra 1 Camshafts - K Series
SK2_ 305-05-7010
$1,39999

$1,399.99

Save $200
---
---
Skunk2's Ultra Series Camshafts for the Honda K20A, K20A2, K20Z1, K20Z3, and K24A2 engines dramatically increase both horsepower and torque yet retain complete valvetrain stability and exceptional engine response. Ideal for heavily modified engines, Ultra Series Camshafts are manufactured from proprietary, high-quality forged tool steel cores, are CNC ground, and feature patent-pending profiles with unique lobe shapes and revolutionary lift, velocity, and acceleration characteristics.
Up to 80 hp gains with Skunk2's Ultra Series line of camshafts, our professional line of high-lift, racing camshafts for Honda's K-series VTEC engines. Ultra Camshafts are designed to optimize mid-range and top-end horsepower and torque, with peak power moved up the RPM band. As a result, VTEC crossover is seamless, allowing for the broadest powerband possible. No other line of racing camshafts even comes close to Skunk2's Ultra Series. 
 Skunk2's Ultra Series Camshafts also feature Fast Ramp and AMAX profile technology, which increases overall performance and results in unmatched response from idle to redline. AMAX technology simply maximizes the area under the lift curve but without compromising reliability or valvetrain stability. Skunk2's profiles feature more duration than competitors' at lifts above 1mm, resulting in greater efficiency and more power. And thanks to Fast Ramp, the same technology used in Formula One racing, seat timing is reduced, which results in additional cylinder pressure and more torque but without compromising valvetrain longevity.